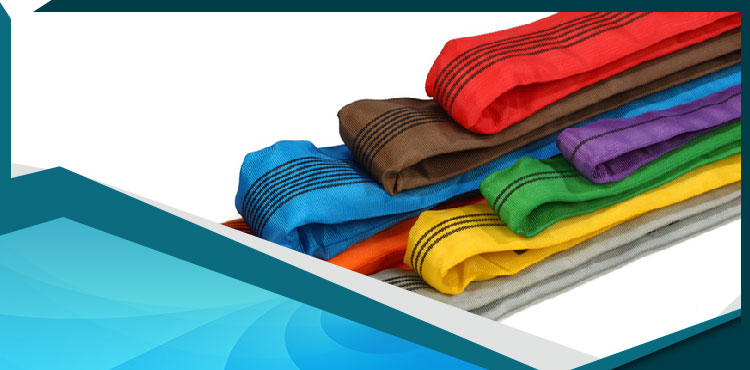 We have great range of webbing produced from tested high strength polyester yarn. We have complete range of polyester webbing for cargo straps, lashing & lifting slings from 13mm to 300 mm width. The webbing we supply are as per American and European Standards and is available in rolls of 100m or any cut length as per customer requirements.

We offer several products with increased cut resistance and/or abrasion resistance properties including our patented SUPEREDGE polyurethane impregnated premium tie-down. In addition to our current product line, we have the capabilities to offer specialized treatments/coatings to enhance the overall performance of the webbing.

We have Webbing Slings upto115 tons capacity as per EN 1492-1:2000 standards and ASME B30.9 standards.Flat Webbing Lifting Slings are made from high tenacity polyester webbing, colourcoded for ease of identification for lifting They are available in four basic types: Simplex, Duplex, Quadriplex and Endless.

Simplex Slings are manufactured from single thickness webbing, whereas Duplex slings are manufactured from double thickness webbing and Quadriplex are of 4 layers while multiply layers are of upto 10 layers. All are either terminated in a metal end fitting or, more popularly, sewn back upon themselves with a high tenacity Polyester fabric to form a reinforced Eye, which provides greater durability than the traditional leather eye.

The webbing is stitched close to the eyes which are upto 45" long bearing to bearing. Endless slings, however, are manufactured from single thickness webbing sewn in a continuous loop with an overlap. These slings are mainly used when needing a wide grip on large equipment, e.g. for lifting pipes. In order to protect the webbing from unnecessary wear and tear, various sleeves are available, in any length, which can also protect both the sling and any fragile loads.


Features:
Advantages of Webbing Slings
Polyester Webbing Slings made of manmade High Tenacity fiber,
Polyester Slings are much lighter & flexible therefore, easy to rig and handle.
Do not damage sensitive or delicate surface resulting lower industrial wastage.
Problem free agreeable handling.
Grips load tightly along the contours of the load.
Minimize the shock loading, can absorb heavy shocks without damage.
Are colour coded for ease of identifications thus less chances of misuse.
Easy visual inspection, saving frequent inspection and proof load testing.
Do not rust or corrode and therefore do not weaken the edge.
Save storage cost as they are flexible and lighter in weight, easy to store.
Polyester slings have low initial cost and a long serving life, cost effective.
Eliminates need of consumables like grease or hand gloves reducing recurring cost.
Reduced machine downtime.
No electrical conductivity.
Construction of Slings
Synthetic Slings are available in Flat Webbing, Flat endless, Round Endless and Round Eye to Eye type. These slings are available in capacity range 500 kg to 500 ton. All our polyester slings are manufactured as per EN 1492-1:2000 standards and ASME B30.9 standards.
FLAT WEBBING SLINGS
Our Polyester flat slings are made from high tenacity polyester webbing, colour coded for ease of identification for lifting. These slings are available in two basic types:
Eye and Eye Type
Eye and eye slings are made with a flat loop eye on each end with a loop eye opening on the same plane as the sling body. This type of slings is generally called Flat eye and eye, eye & eye or double eye sling, Versatile and flexible, this sling can be used in all three hitches (Vertical Basket or Choker)